Greco di Tufo
DOCG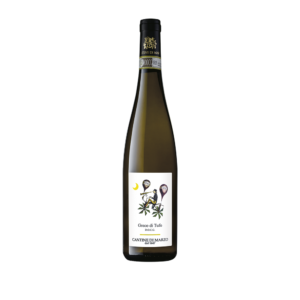 Description:
Denomination: Greco di Tufo DOCG
Variety: Greco 100%
Location of the vineyards: Tufo, San Paolo and Santa Lucia hamlets.
Exposure and altitude: South West 350–450 mt a.s.l.
Nature of the soil: Sulfur, clay and limestone
Training system: Guyot
Planting density: 3.000 vines/Ha
Average age of the vines: 20 years old
Yield per hectare: 50 Hl/Ha
Harvest: Handpicked in mid-October
Average yearly bottle production: 20.000 bottles
Bottle format: 0.75 l – 0.35 l
Alcohol: Generally 13%
Vinification technique:
Only the first pressing of the grapes is used for our Cantina's signature Greco.
This free run juice is the best possible and it is fermented with great care using selected yeasts, in temperature controlled tanks. The wine rests on the lees for six months to add structure and complexity. Malolactic conversion is partial depending on the natural acidity of the vintage. Before bottling, the wine is lightly filtered and stored at cellar temperature until we judge it to be ready for the market.
Sensorial Description:
Straw yellow with golden hues. Flint and orange blossom, with wild Mediterranean flowers
on the nose. As the wine breathes, lime and citrus aromas develop. To taste, this is an intense, mineral dry white wine with refreshing citrus fruit. The flavours linger long after the wine has left your mouth, leaving delicious nuances of almond, eucalyptus and bitter lemon.
Food pairings:
The intense minerality is especially well matched to oily fish like salmon.
The wine has a mouth cleaning quality thanks to its fresh acidity, it is very versatile, as an aperitivo or with fried antipasti and even fresh cheeses. Excellent with Pizza.
Serving temperature: 10 – 12° C
Peculiarity:
The first ever Greco di Tufo was born in our vineyards nearly four centuries ago. The unique feature of this wine lies in the strong sulfur content of the soil, the same fossil sulfur which, mined, made the di Marzo fortune in the nineteenth and twentieth centuries.