"VIGNA SERRONE"
Greco di Tufo Docg Riserva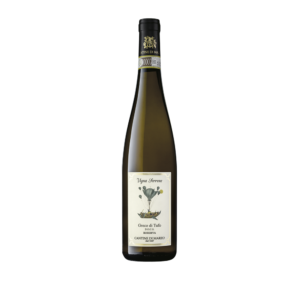 Description:
Denomination: Greco di Tufo DOCG Riserva
Variety: Greco 100%
Location of the vineyards: Tufo, hamlet San Paolo, Serrone vineyard
Exposure and altitude: South – South West / 350-380 mt asl
Nature of the soil: Sulfur, clay and limestone
Training system: Guyot
Density of plantation: 3.000 vines/Ha
Average age of the vines: 30 years old
Yield per hectare: 70 Hl/Ha
Harvest: Handpicked in mid-October
Average yearly bottle production: 5.000 bottles
Bottle format: 0.75 l – 1,5 l
Alcohol: Tipically 13%
Vinification technique:
Only the first pressing of the grapes from our Colle Serrone vineyard is used for this Cru of Greco di Tufo. This free run juice is the best possible and it is fermented with great care using selected yeasts, in temperature controlled tanks;  the wine rests on the lees for 9 months to add structure and complexity. Malolactic conversion is partial, depending on the natural acidity of the vintage. Before bottling, the wine is lightly filtered and then it is stored at cellar temperature for a year, until we judge it to be ready for the market.
Sensorial Description:
Straw-yellow, with aromas of flint and fresh sea breezes.  Full and intense on the palate with pure citrus fruit, lime, ripe herb and mineral flavours. A wine with great finesse and length.
Food combinations:
Well suited to fish and especially to sea food dishes.
Serving temperature: 10 – 12 °C
Peculiarity:
When possible, we make a maximum of 5000 bottles from the vineyard locally known as Serrone.  The soils are a mixture of clays and limestone which are rich in natural sulfur, the yields are low and the quality high, we select only the best bunches for this wine.  It is a unique vineyard that paints an exquisite portrait of our Greco grape variety.