Anni '20
Greco di Tufo Docg Spumante Riserva, Millesimato Extra Brut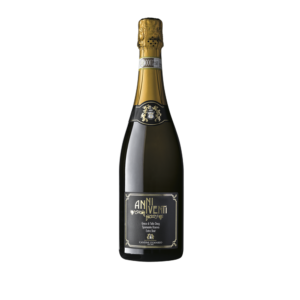 Description:
Denomination: Greco di Tufo Spumante DOCG Metodo Classico
Variety: Greco 100%
Location of the vineyards: Tufo
Exposure and altitude: South, South West 350m asl
Nature of the soil: Sulfur, clay and limestone
Training system: Guyot
Planting density: 3.000 vines/Ha
Average age of the vines: 20 years old
Yield per hectare: 60 Hl/Ha
Harvest: Handpicked at the end of October
Average yearly bottle production: 3.000 bottles
Bottle format: 0.75 l
Alcohol: Generally 13%
Vinification technique:
Alcoholic fermentation and malolactic conversion in temperature controlled stainless steel tanks. 36 months on lees before disgorging.
Sensorial Description:
Golden hue with small and long-lasting bubbles. Dried fruit and almond aromas, full-bodied crisp, dry flavours on the palate that exhibit all the classic traits of the Greco variety and especially those of Greco from the village of Tufo.  The aftertaste is laced with bitter orange and almond.
Food pairings:
This sparkling wine is excellent as an aperitif. It has the structure to be enjoyed with sophisticated seafood dishes or delicate white meats. Remarkable with our traditional pizza.
Serving temperature: 8 – 10° C
Peculiarity:
From the end of the nineteenth century to the mid-thirties, the di Marzo estate sold large quantities of bulk wine to France, whose viticulture had been destroyed by the Phylloxera pest. The contacts established with French wine importers and wine makers, gave the idea of creating a dry sparkling wine with Greco variety. In 1926 the first bottle of sparkling Greco di Tufo was made.