1930
Spumante Metodo Classico di Greco di Tufo Millesimato
Brut Nature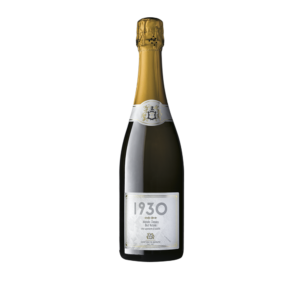 Description:
Name: 1930
Denomination: Vino Spumante di Qualità – Metodo Classico di Greco di Tufo Millesimato, Brut Nature
Variety: 100% Greco di Tufo
Location of the vineyards: Laure vineyard, Tufo, San Paolo di Tufo
Exposure and altitude: South, South-West, 350m a.s.l.
Nature of the soil: clay, limestone and sulfur
Training system: Guyot
Density of plantation: 3000 vines/Ha
Average age of the vines: 20 years
Yield per hectare: 60Hl/Ha
Harvest: handpicked at the end of October
Average yearly production: 1500 bottles
Bottle format: 0.75l
Alcohol: 13.50%
Vinification technique:
Cuvée: 100% Greco di Tufo from alcoholic fermentation in stainless steel vats at controlled temperature; refining on lees for 9 months.
Foam formation: Metodo Classico entirely made in our winery. Refermentation and refining in bottle for 18 months. Bottles rest for four months after disgorging.
Sensorial description: :
Bright and lively wine. Golden hues with a fine, long-lasting perlage. It expresses all the aromas typical of Greco di Tufo, like delicate notes of ripe yellow fruits, citrus smell and a slight mineral touch with hints of white flowers. Finally, a delicate smell of almonds and bread crust.
Full-bodied, it has the freshness and zestiness of Greco di Tufo, all balanced with the subtle creaminess given by the refermentation process.
An intense and persistent sip.
Food combination: Great as an aperitiv; main courses with seafood, fish dishes are perfect pairings.
Serving temperature: 8 – 10° C
Peculiarity: "1930" is our newest sparkling wine, and it now accompanies our historic Classic Method Anni Venti.
1930 was the birth year of Filippo di Somma, Principe del Colle, son of Maria di Marzo and manager of the winery for more than 30 years until he passed away in October 2019. This wine is dedicated to him, in memory of his commitment in keeping alive a heritage that dates back to 1647.