Dear Friends,
in addition to The Vineyard Diaries, today we also want to share with you what happens in our cellar, as part of the backstage of our production.
By now you should certainly know Tufaniello, our Sparkling wine produced with the Traditional Method. A fundamental phase in this method is the disgorging, that is the moment when the lees are removed from the bottles, after the period of ageing – 24 months on lees for our Tufaniello, 36 months for our Anni Venti.
In order to proceed with the disgorging, the lees have to be consolidated for removal, so they undergo a process called riddling (remuage in French). The bottles are put into riddling desks and, in the past, they were manually turned every day for a month.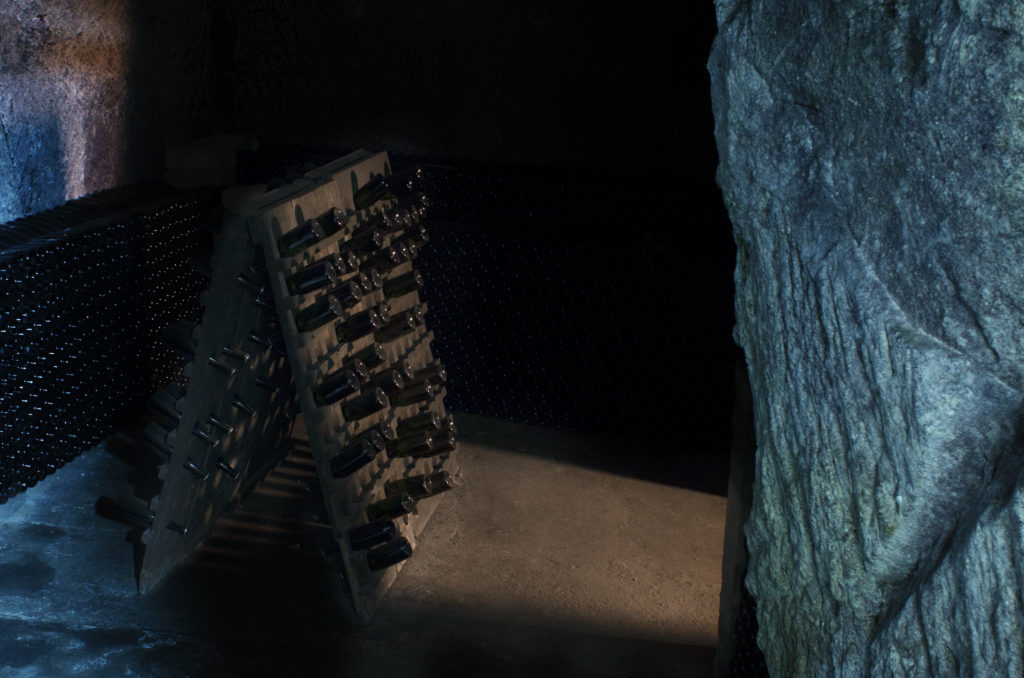 Nowadays, the riddling is made mechanically using a gyropallet that, within a week, moves the bottles in a straight down position, with the lees settled in the neck.
Now it is time to go forward with the disgorging. In the short video that we show you, you can follow the process, that we made at the end of February 2016 with equipment coming from Franciacorta.
First, you can see the bottles upside-down in a machine that freezes the neck down to -20°; then the plug of ice and lees is removed, and the wine level is topped up with with liqueur d'expédition, a dose of sugar diluted in wine which gives the right amount of sugar to the wine and determines its sweetness – for Tufaniello, an extra dry, we'll have 16g of sugar per litre, while for Anni Venti, brut, we'll have 7g/l.
The bottles are then corked and secured with the metallic cage, and the wine is going to rest and stabilise for a while before being marketed.
That's all for today's report from our cellar, we hope that you enjoyed this short visit to the winery and its activities.